We are sad to share the news that our emeritus Professor David G Butler passed away in February 2022.
Born in Vancouver, BC, David Butler obtained his PhD with Professor Ian Chester-Jones at the University of Sheffield in 1964 and was recruited to the Department of Zoology that same year. He began his tenure as a Professor in Endocrinology at the newly constructed Ramsay Wright Zoological Laboratory building, complete with Space Age animal facilities, cold rooms and dedicated biochemical preparation rooms. The Department of Zoology has evolved into the current Department of Cell & Systems Biology.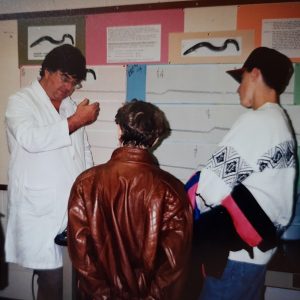 Professor Butler had a passion for speaking with the public about science, sparked by presentations he viewed as a school child in BC. He was a regular presenter at UofT Day outreach events (pictured here in 1991). He was also dedicated to students in Zoology; Dr Alia Cadinouche states that he "introduced me to scientific research and provided me with much encouragement throughout". Dr Gavin Oudit fondly recalls that Prof Butler would share the "key aspects of his research training, occasionally sprinkled with Canadian history and his love for the BC coast."
Visitors at UofT Day events in the 90s clamoured to see his Alligatoridae caiman (which Prof Butler used for his studies of the pressor effects of angiotensin peptide), along with his other species of interest; eels, bowfins and ducks. Butler's expertise allowed him to fulfill his natural calling of comparative endocrinology. Dr Oudit lauds Prof Butler's great skill in surgical techniques.  "His elegant self-crafted surgical expertise was exemplified by his ability to cannulate independently the lateral and medial nasal glands in ducks thereby allowing the elucidation of the neural versus the humoral control of these remarkable exocrine glands."
Part of Prof Butler's legacy is that Dr Oudit continues to pursue a passion for angiotensin through clinical studies of the role of angiotensin peptides in the cardiovascular system and in SARS-CoV-2 infection.
Professor Butler's diverse interests and impressive accomplishments are detailed in his obituary at this link.