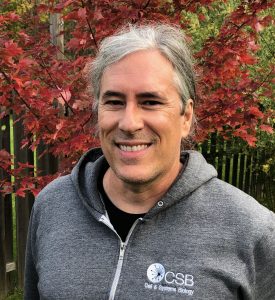 Since the Department of Cell & Systems Biology was first created in 2006, I have been proud of the advancements we have made and privileged to be part of a department of brilliant colleagues. I am grateful for the advice and mentorship I received in my early years at U of T and will nuture that supportive atmosphere as Chair.
At the educational level, we have come a long way from my student experience of professors hurling chalk at undergraduates in lectures. Our Teaching Stream Professors create modern, interactive instruction for an engaged student body and our Sessional Lecturers provide a personal approach. I'm glad that I can use my expertise in online instruction to help CSB and other faculty across Arts & Science pivot to online learning. As the pandemic recedes, I will lead the Department in exploring more opportunities in experiential learning to fulfill our role at the heart of many life science students' experiences at U of T.
I have been appreciative of the internal grant review panels initiated by Professor David Guttman, and look forward to continued success in our research applications under Professor Jennifer Mitchell's guidance. Our colleagues are recipients of prestigious honours, including Banting, Vanier, Early Career and CFI awards, and these exceptional students, post-docs and professors will have my utmost support moving forward. We will continue to produce outstanding discoveries that enhance and challenge our understanding of living organisms.
I am fortunate to have excellent support from our staff at all levels. I expect they will continue to receive awards for excellence from the University. It is thanks to the team that Professor Vince Tropepe recruited that I will be able to guide our Department to the ranks of the best in the world.
Nick Provart
Cell & Systems Biology Chair