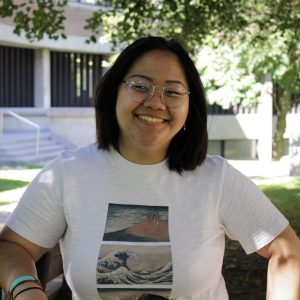 Congratulations to New College student Jade Zhang, who has been awarded the Dr Leslie Paul Nyman scholarship. This award recognizes a plant biology student who has made a stellar impact through community service activities.  
Zhang excelled in our Molecular Plant Biology lab course CSB350, where she was excited to acquire new techniques from Professors Nambara and Christendat.  She was especially glad to get her hands on scientific equipment, rather than seeing the equipment through a screen in virtual labs.  
Zhang is committed to helping others. In her first year at New College, Zhang felt college events weren't helping her connect with her peers. To ensure that her fellow students would feel connected, she joined residence council and student council. In her early years as junior house representative, Zhang was grateful to upper year students who provided her guidance.
Zhang applied her leadership skills to planning orientation events, enhancing their impact through reflecting on her first-year experiences. Her success was demonstrated by successive re-elections as student representative.  For New College students at home over the pandemic, contacting her was a moment of escape to talk to someone new.  
Her technical skills on virtual platforms provide support for New College and UofT to organize mental health programs. Both the UofThrive and SMART programs benefited from applying her experience in helping students connect and develop during the pandemic.  
"If you can help someone, why not do it?" is the straightforward creed Zhang learned from her family and applies in her life.
Congratulations, Jade Zhang!