CSB held our Research Day for the first time in 2 years on September 22nd, 2022. Over 180 students, staff and faculty gathered at the Old Mill to hear the latest advances in research in the department. In his opening remarks, Graduate Associate Chair John Peever remarked how glad he was to see everyone in 3D after years of Zoom screens.
Our Keynote Speaker Prof Teresa Lee wowed the crowd with her detailed work on the epigenetics of longevity in C elegans. It was a pleasure to host her.
We are grateful to our alumni speakers who shared their career paths with our students. Declan Ali related fond stories of the Lange lab that led to his position as Chair of Biological Sciences at the University of Alberta. Gazzarrini lab graduate Carina Carianopol shared her more recent path to industry at Platform Genetics and related the joys of living in Niagara.
Trainee presentations were judged in different formats by faculty, post-docs or by applause. In addition to cash awards, some outstanding presenters also received prizes donated by Millipore-Sigma.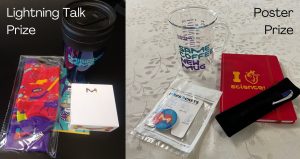 Oral Presentations
Senior students presented the details of their research in oral presentations with faculty scoring their presentations.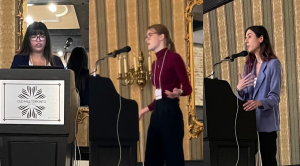 Jasmin Patel of the Gazzarrini lab at UTSC scored the highest marks for her talk on "Transcriptional regulation of FUSCA3 during seed coat development in Arabidopsis thaliana"
Our next award winner was Clare Breit-McNally of the Desveaux and Guttman labs at UTSG, who spoke on "The effector-triggered immunity landscapes of two Brassicaceous oilseed crops"
The final award went to "Spalt and Disco Define the Dorsal-Ventral Axis of the Developing Drosophila Medulla" from Priscilla Valentino of the Erclik lab at UTM. For more details on this research, you can read her brand new publication in the journal Genetics.
Lightning Talks
Our Lightning Talks event gave students three minutes to introduce their topic and to relate their findings. These rapid-fire talks were judged by the enthusiasm of the audience response.
Vineeth Andisseryparambil Raveendran from the Woodin lab was awarded the prize for his Lightning Talk on "Enhancing potassium-chloride co-transporter-2 (KCC2) function in neurons by targeting protein-protein interactions". As the presenter who received the loudest applause, he was presented with some additional Millipore-branded gifts.
Ernest Iu, Milena Russo, Gregor McEdwards and Kailynn MacGillivray also won awards for the enthusiastic waves of applause inspired by their talks.
Poster Session

While attendees sampled canapes and drinks from the bar, mid-PhD students gave poster presentations over two sessions that were judged by faculty and post-doctoral researchers.
Samiha Benrabaa received the highest scores of all the poster winners, earning a special selection of Millipore-donated goods for her poster on "Ecdysteroid-signaling and reproduction in Rhodnius prolixus, a vector of Chagas disease".
Russell Luke, Samuel Delage and Tamar Av-Shalom also earned awards for their excellent poster presentations.
As the day wrapped up, CSB chair Nick Provart gave his warm thanks to the organizing committee and its leader, Madison Marshall for a flawless day.